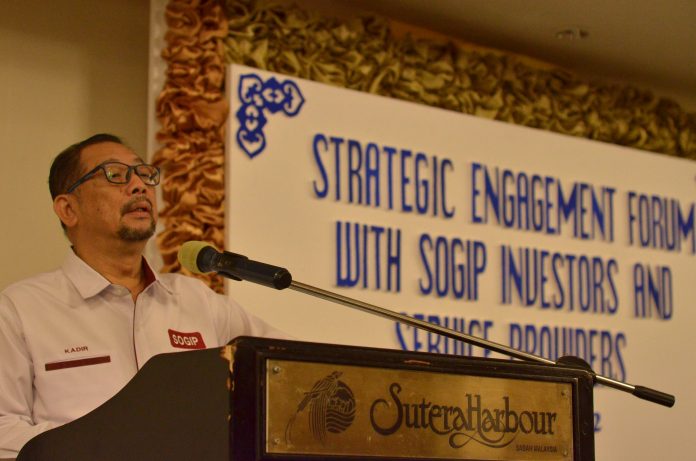 KOTA KINABALU: Sabah Oil & Gas Development Corporation (SOGDC) held a strategic engagement forum today between SOGIP's investors and service providers subsequent to the signing of MoU and Sublease agreements during SMJ-SOGIP Week in conjunction with Hala Tuju Sabah Maju Jaya Anniversary held in March 2022.
The objectives of the meeting were to get the latest updates from the investors and to explore the potential synergistic purposes amongst themselves.
With over 60 attendees, the companies that are involved in setting up greenfield production facility in SOGIP include Petroventure Energy Sdn Bhd (Crude oil storage and refinery project), PMB Technology Bhd (Silicon metal production), Shanxi Construction Investment Group Co. Ltd. (Greendiesel project), Sonoma Resources Co., Ltd. (Blue hydrogen and Carbon Capture & Storage (CSS)) SISMA Energy Sdn Bhd and Globaltec Formation Bhd (Supply of LNG and Regassification terminal), and Global FCNG (Maritime FCNG technology).
Whereas, site services facility include ADSI Engineering (Power plant), Bina Puri-Wison (Power barge and centralised labour quarters), Cenviro Sdn Bhd and Tex-Evolusi Sdn Bhd (Waste management), , ZYA Energy (Project consultancy) and PL Agro Link (Material off-loading facility).
During the meeting, SOGDC highlighted its' business model concept with all the investors where in order to leverage on the economies of scale and optimal land utilisation, SOGDC envisions SOGIP to adopt the centralised common services facilities concept.
This approach will increase efficiency of resource use and save cost to the investors and most importantly, enabling potential future companies to directly 'plug into' the existing infrastructure that includes ready land, a networked community of companies, a comprehensive set of amenities and utilities, and a pro-business environment.
Chief Executive Officer and Managing Director of SOGDC, Hj. Abdul Kadir bin Hj. Abdullah @ O.K.K. Hj. Damsal said 'We would like to share the long-term vision of the site (SOGIP) with all the investors to create a 'win-win' situation for all.' while chairing the engagement forum.
The greenfield production and site services facilities will create multiple spin-offs for the state. It will unlock potential future businesses such as regional and domestic distribution and bunkering for petroleum products, silicon metals, LNG and CNG, green solutions and products, and potentially provide return to the state via equity participation.
The engagement was held at Sutera Harbour and adjourned at 3.00pm.